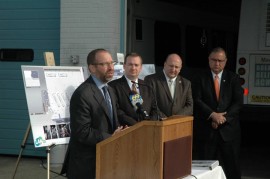 An upgraded garage at LANta's Allentown headquarters and an Intermodal Transportation Center in Easton, PA, have been fully funded through federal grants announced in a visit by Federal Transit Administrator in Allentown on Tuesday, October 19.
Federal Transit Administrator Peter Rogoff visited the Allentown headquarters of Lehigh and Northampton Transportation Authority (LANta) Tuesday, October 19, to formally announce FTA approval of applications for grants totally $14.4-million for two major projects in the Lehigh Valley. Citing the demonstrated need for the project and the jobs they will create, Rogoff praised LANta for its continued growth in ridership and commitment to the environment with the recent addition of Hybrid-electric buses to its city transit fleet.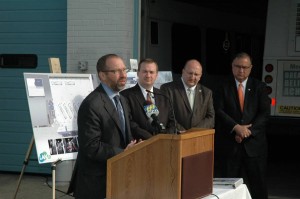 The projects to be started within months include a new, $10.4-million maintenance garage at the current Allentown location off of Lehigh St. which will have state-of-the-art equipment to meet current and long-term needs.
Pictured: FTA Administrator Peter M. Rogoff; Peter Schweyer, LANta Chairman; Allentown Mayor Pawloski; Easton Mayor Sal Panto
An additional $4-million will be used for the new Easton Intermodal Transportation Center to be constructed on 3rd St. just a block from Centre Square. The facility will provide for easy transfers for LANta riders as well as connections to Transbridge Lines buses to New York City. It also will house parking facilities, first-class office space, and the proposed High School Hall of Fame, as well as an outdoor public park area.
Rogoff cited LANta's 70% growth in ridership over the past decade – which he termed 'unique' in the nation – as among the reasons the Authority was awarded these competitive grants. He was thanked by LANta board Chairman Peter Schweyer and Board Treasurer Fred Williams for recognizing the important role LANta plays in the vitality of the community, and for the many jobs that projects like these provide.
Present at the announcement event also were Northampton County Executive John Stoffa, Mayor Edward Pawlowski of Allentown and Easton Mayor Sal Panto. In brief remarks, these dignitaries echoed LANTA's Chairman's public acknowledgement of the importance of public transit to the economic health and growth of the community's urban areas. Noting that more than 50% of LANta riders are commuting to work, Stoffa said it was a 'good day' for the Lehigh Valley.
"Both grants will support significant transit infrastructure projects that will enhance LANta's ability to maintain and improve public transportation services to the residents of Lehigh and Northampton Counties," said Armando V. Greco, executive director.
Related posts