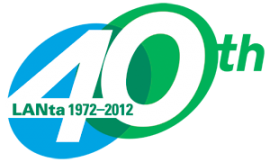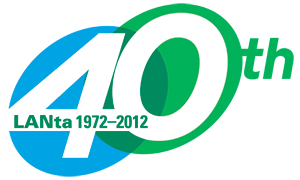 Volume 4, Issue 6
A 40th anniversary is something to celebrate and 2012 marks LANta's 40th year of service to Lehigh and Northampton Counties. LANTA takes pride in being reliable and meeting the transportation needs of those in the Valley. Approximately 50% of LANta riders use the service for work – that's approximately 10,000 commuter daily! The remaining 50% use LANta for shopping, medical/dental appointments, personal business and other quality of life needs. Everyday approximately 2,000 seniors (over 65) use LANta, allowing them to maintain independence.
LANta's founding date is March 28th, 1972. Over the next few weeks, we will recall LANta's history.
PART 1
In early 1972, the management of the privately owned Lehigh Valley Transit Company (LVT) alerted local government officials that bus service in the Lehigh Valley would come to a halt if fares were not increased and service curtailed. A transit crisis was at hand. December 1972 brought about an immediate action report by the Joint Planning Commission of Le­high and Northampton Counties. They urged the establishment of a bi-county au­thority to operate transit, an agency publically funded.
In March 1972 the Lehigh and Northampton Transportation Authority (LANTA) was created to operate a sound and reliable public transportation system within and be­tween the two counties. The counties agreed to underwrite the local share of funding required by the Pennsylvania Department of Transportation and the Urban Mass Transportation Administration, the state and federal sources of funding. At this time it was decided that this newly formed Authority would hold public meetings the second Tuesday of each month at 12:00 noon, to review operations and plan for the future.
To get a sense of how pubic transit use had fallen since World War II, ridership on the LVT lines in fiscal 1950 was 50 million trips. By fiscal 1971, with reductions in demand, service and fare increase, ridership had dwindled to just 2.6 million trips. Funding programs at the federal level and later, in the Commonwealth, encouraged communities to establish public agencies to maintain services and not discard these local public assets and services.


Victor W. Anckaitis, the former Secretary of the Pennsylvania Department of Transportation, was named the first Chairman of LANTA on March 23, 1972. Also, five board members were appointed from each county and the first board of di­rectors consisted of Lehigh County; Isaac Gordon, I. Cyrus Gutman, Richard D. Grey, Roland J. Jones and F. Willard Harper (Lehigh County) and Ray D. Gor­ham, Morris Mindlin, Victor W. Anckaitis, John A. Heske and Anthony W. Forchielli (Northampton County).
The chairmanship of the LANTA Authority runs for a two-year term and then rotates every two years between representatives of both counties. Board members serve for a five-year term, at which time the respective county executive has the au­thority to re-appoint them or appoint a replacement.
In August 1972 LANTA introduced one of its many programs. It allowed a reduced fare for all passengers riding during off-peak hours (10 a.m.—2 p.m.). Pricing during off-peak hours went from 45ȼ to 25ȼ. This very dramatic change to the pricing policy made an almost immediate impact on ridership, going up during these times.
LVT had been downsizing and in the process they were cutting some of their ser­vice. LANTA initiated new routes and improvements to the existing routes on September 5, 1972. Service hours were increased by 65% and 45% and more miles were added to the service. This was done by reinstating service on routes that had been cut, along with expanding into rural areas. In 1972, service was added to Slate Belt borough and West Allentown: Wescosville, Macungie and Trexlertown.
On October 30, 1972, LANta purchased LVT's operating equipment and inventories. Charles M. Weeks, was named the first General Manager of LANTA. The first full year of operation re­sulted in a reversal of a 25-year downward trend in ridership. The aging transit fleet was replaced with 59, modern, air conditioned, state-of-the-art GMC vehicles. Called 'fishbowls' because of their large front glass windshields, these vehicles served the Authority and the public well for 20 years. These vehicles cost $36,000 each in 1972. Today a city transit vehicle runs in excess of $350,000 and a hybrid vehicle more than $500,000.

Related posts