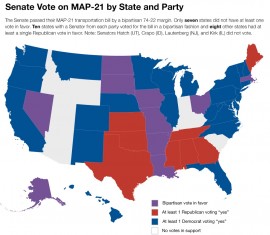 Since the Eisenhower Administration established transportation in the 1950's as a major federal funding element of the national budget, 'surface transportation legislation' has been produced by Congress roughly around every 6 years to further the build out the national highway system and, as local needs expanded to include public transportation, freight, rail and alternative transportation, has been expanded to include these intermodal objectives.
Below is a brief overview of transportation legislation since 1986 which shows an evolution from what was essentially a 'highway' funding program, to one that focuses on mobility and sustainability.
1987 – STURAA – Surface Transportation and Uniform Relocation Assistance Act of 1987 – also called the Federal-Aid Highway Act of 1987. It nominally gave power to apportion money to the Secretary of Transportation. Most noticeably it allowed states to raise the speed limit to 65 miles per hour on rural Interstate highways. It was a 'highway' transportation legislation and public transit remained a separate element both in terms of funding and in the planning process. Highways were highways and transit was transit and the two were not intertwined.
In 1991 – ISTEA – the Intermodal Surface Transportation Efficiency Act of 1991 was enacted. Called 'ice tea' as in, "this is ice tea not champagne," this was a genuine change in direction for funding, planning and attitude. It was an attempt to 'level the playing field' and bring an 'intermodal' approach to what had traditionally been a 'highway' program or law. The law also moved a considerable amount of decision-making to localities by empowering Metropolitan Planning Organizations to undertake prioritization of transportation projects through a prescribed planning process. Why, it was asked, should the federal government be deciding what projects localities should design and build?
1998 – TEA-21 – the Transportation Equity Act for the 21st Century. The transportation equity act refined the intermodal thrust of ISTEA by putting the power firmly back in the planning process. It requires that seven planning factors be included in regional transportation plans. These must:
1. Support the economic vitality of the metropolitan planning area;, especially by enabling global competitiveness, productivity and efficiency
2. Increase the safety and security for the transportation system for motorized and non-motorized users
3. Increase the accessibility and mobility options available to people and for freight
4. Protect and enhance the environment promote energy conservation and improve the quality of life,
5. Enhance the integration of connectivity of the transportation system, across and between modes, for people and freight,
6. Promote efficient system management and operation,
7. Emphasize the efficient preservation of existing transportation system.
2005 – SAFTI-LU – the Safe, Accountable, Flexible, Efficient Transportation Equity Act: A Legacy for Users – designed "to protect and enhance the environment, promote energy conservation, improve the quality of life, and promote consistency between transportation improvements and State and local planned growth and economic development patterns." This law further merged the modes to meet the needs for mobility rather than just build highways. It's purpose was to maintain the highway and bridge system but for new demand, alternatives analysis were required.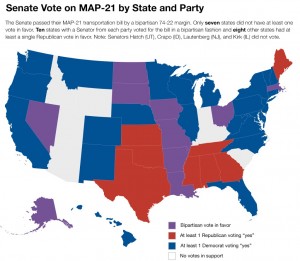 2012 – MAP-21 – Moving Ahead for Progress in the 21st Century – provides two years of funding stability instead of the usual 6. It consolidates some of the programs from SAFTI-LU and attempts to streamline the process for projects while maintaining a strong local decision-making element, planning steps to insure coordination of modes and some initiatives to improve mobility and system performance.
In addition to these transportation laws, other federal and state legislation has an impact on how communities invest in projects. Environmental concerns have been a significant force in shaping how highways and roads are built and indeed, whether they are built at all. A heavy set of requirements must be followed now to prove that transportation dollars spent will not adversely affect the environment. Many projects become so difficult to build that they simply are abandoned.
And the
Americans with Disabilities Act of 1990
put civil rights measures in place that require transportation dollars to be spent so that access is provided to all citizens regardless of their physical or cognitive limitations. This has had its most direct impact on public transit as fleet vehicles had to made 'fully accessible' and, for those who could not board buses due to their impairments, alternative door-to-door service had to be created. Locally both LANtaBus and LANtaVan are fully accessible to people with disabilities.
Also in the mix was a concept called 'environmental justice' which was a fancy way of saying the federal dollars had to be spent in such a way as to not negatively impact any protected minority both in terms of hiring and project investments.
The funding of transportation has moved from an 'assist' from the federal government, to a funding system that directly influences what is built or bought. The transportation systems we see today in the US are a direct result of these funding initiatives. Many 'hoops' or bureaucratic requirements have been set forth to direct localities on what transportation services and projects to select and invest in.
Related posts