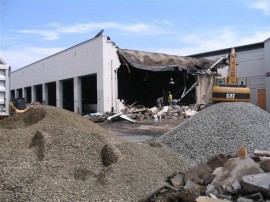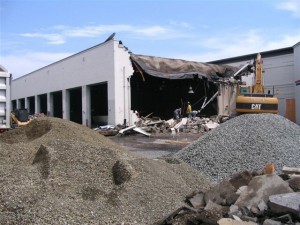 The "new shop," an addition to the LANta garage and maintenance facility that was added in 1953 to accommodate the repair of buses, is being demolished to make way for a truly new structure.
The purpose of the new shop is to replace the current maintenance shop at the Allentown location (1060 Lehigh St, Allentown, PA)  with a modern, state-of-the-art bus maintenance facility that is large enough to meet current needs and will allow for  expansion. The total project budget is $13 million. LANTA was granted $10,400,000 through the Federal Transportation Administration's Bus and Bus Facilities program State of Good Repair initiative to support this project. The remaining funding will come from the State (PennDOT) and LANTA local sources.
Project Goals
•    Provide an upgraded, centralized maintenance support facility.  An upgraded facility will improve the efficiency, effectiveness and safety of the maintenance staff; reduce vehicle maintenance turnaround time and increase storage space. Further, the modern, state- of-the-art bus maintenance facility will be large enough to support new bus types such as hybrid electric (LANTA's fleet currently includes 5 and that portion of the fleet is expected to grow) and articulated buses.
•    Increase vehicle maintenance, service and storage capacity to meet future
demand and long-term needs. LANTA plans to expand operations to meet demand for public transit in the Lehigh Valley.  Ridership on LANTA has increased 73% since 1997.  The current facilities do not allow for the maintenance, storage or service capacity for extra vehicles. The existing fleet of 83 buses will increase to more than 100 buses in the next 6 to 12 years.
Additional Project Benefits
Given the $13 million construction budget, it is anticipated that over 140 jobs will be created in the City of Allentown during the construction phase according to the Federal Council of Economic Advisor's formula. The project itself will be designed utilizing LEED design principles that will affect not only the facility plan but also its construction and operation. The new garage will provide for energy efficiency and reduced energy consumption, allowing LANTA to incorporate more sustainable practices into its maintenance function and to continue to be a "good neighbor" in the urban neighborhood in which the Allentown garage is located.  
Construction Schedule:   Final Design: December, 2011;   Bids let: January/February, 2012;   Construction Start: May, 2012;   Occupancy: June, 2013.
LANTA Background
The Lehigh and Northampton Transportation Authority (LANTA) is the public transportation provider for Lehigh and Northampton Counties in Pennsylvania. This region, also known as the Lehigh Valley, has a population of 821,623, making it one of the top 65 largest metropolitan areas in the United States. LANTA's service area includes the cities of Allentown, Bethlehem and Easton. LANTA operates a fleet of 83 transit buses with trips provided between the hours of 4:45 AM and midnight, Monday through Saturday and 9:00 AM and 7:30 PM on Sunday. Approximately 65 buses are housed, maintained and operated out of LANTA's Allentown operating facility. The remaining 18 buses are housed, serviced and operated out of a separate facility in Easton. Heavy maintenance work for LANTA's entire 83 bus fleet is performed at the Allentown facility.
Related posts