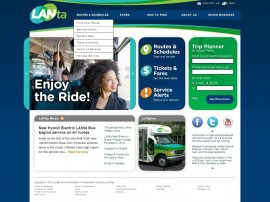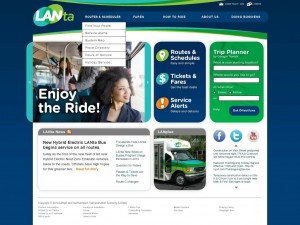 The American Public Transportation Association (APTA) recently announced the winner of their annual AdWheel Award for the most creative internet homepage from among their national membership. The 2012 award recognized Lehigh and Northampton Transportation Authority (LANta) for "excellence in communications and web page design." The award was announced at the Annual APTA Conference in Seattle, Washington on October 2 (2012).
Entitled the "best of the best" in the public transportation industry, according to APTA, the annual AdWheel award winners "represent an outstanding role model of excellence, leadership and innovation whose development of their website have greatly advanced public transportation," stated APTA President & CEO Michael Melaniphy. The more than 500 applicants were categorized by size and specialty. LANta qualified in the group of peer transit agencies with more than four million and fewer than 20 million passenger trips annually.
"An AdWheel Award recipient sets the bar for extraordinary public transit communications," Melaniphy said. "We celebrate their remarkable ability to create engaging materials and messages to advance public transportation," he added.
The web page, which was redesigned as part of the Authority's Moving LANta Forward initiative implemented last year, was a result of a detailed analysis of LANta's corporate identity and communications program. The page (www.lantabus.com) was re-organized, given a new and modern design and tested for ease of use and quick access to bus information, including state-of the-art real-time information at the forefront of modern web-based marketing.
The web page was designed by Thiel Design / Brecon Hill Consulting, Milwaukee, WI. LANta also recognized Genna Communications of Lower Macungie Township (PA), the Authority's marketing consultant and Koury Enterprises, Lehigh Valley (PA), the authority's webmaster and publisher for their roles in implementing the new website into the full marketing program.

The American Public Transportation Association (APTA) is a nonprofit international association of 1,500 public and private member organizations, engaged in the areas of public bus transit, paratransit, light rail, commuter rail, subways, waterborne services, as well as intercity and high-speed rail. More than 90 percent of the people using public transportation in the United States and Canada are served by APTA member systems.
Related posts