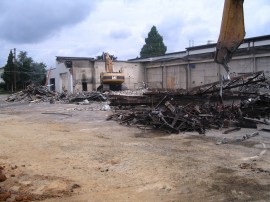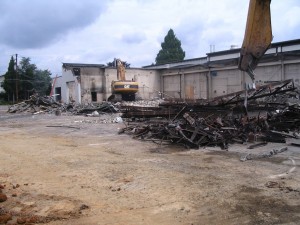 If you have been by the LANTA Allentown Offices off of Lehigh Street over the past three months you would have seen construction underway for LANta's new state-of-the-art maintenance garage. This 18-month, $13 million project is being funded by grants received from the Federal Transit Administration (FTA) and PennDOT. The modern facility will improve the efficiency, effectiveness and safety of the maintenance staff; reduce vehicle maintenance turnaround time and increase storage space for future and long-term goals of the LANta bus fleet.

The excavation of the site was completed in September, 2012. Before the end of November, Skepton Construction poured concrete footers and the steel was erected, giving the site the first sense of the footprint that the building will occupy. When interior block walls were put up and the concrete was poured the following month, the project really started to look like a garage. It is apparent that this 30,000 sq. ft. building will be much larger than the previous garage, almost three times larger. The eight maintenance bays are much higher, wider and longer to accommodate the new buses.
The weather has been in our favor and the building is under-roof, the goal is to have it completed before the end of December, 2012. If the good weather weather holds up, Skepton Construction will be able to install a rubber roof over the poured concrete roof and install the outside layer of block on the building. Also, skylights will be dropped in to give the mechanics natural light to work with.
"We are very close to being on schedule," said Randy Flyte, Supervisor, Materials and Maintenance. "With the size of the project to be able to say this this far into the project is quite a feat. We ran into some issues during the excavation that delayed us, but fortunately, we were able to catch up."
The next five months will be dedicated to the extensive interior work that must be completed for this state-of-the-art facility. This work will include the installation of lifts at the bays, the pouring of the concrete floor and all electrical, heating, ventilation, and plumbing work. Along with these major installations, minor work for the comfort of all maintenance staff will be underway. This includes a lunch and break room, updated office facilities, a specialized shift Leader area, and new computers and other technology equipment.

Related posts