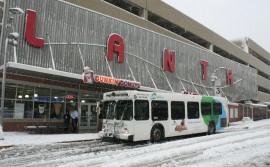 When snow and ice hits the streets, and eventually it will, driving may once again be treacherous. The Cities and PennDOT do a good job of getting out early and removing snow and treating ice, but inevitably at some point with a major, and sometimes with a minor, storm, driving gets tough.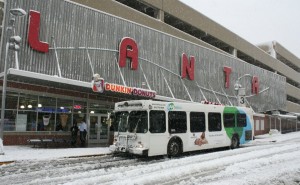 People must get to work, school and to other events. Riding the bus may be a viable option instead of driving in inclement weather.


LANta buses and vans will, in most cases, be running to aid you in your travels. As with all vehicles in severe inclement weather conditions, they may be a moving slower than usual and changes will be necessary to the regular route or schedule, due to traffic and other obstructions.  LANta's buses can get through heavy snows.  Problems are usually a result of other vehicles on the road getting stuck or involved in accidents.  
Dispatch offices in Allentown and Easton, using the radio control system, keep bus operators informed of detours and schedule changes. With this information LANta operators will be able to maneuver the buses in the best way possible. 
A snow emergency is declared when weather conditions are such, that only main roads are passable. Most buses have "Snow Emergency" Brochures in take-one boxes on board, or you can call customer service and have one mailed to you or you can email customerservice@lantabus.com and one will be sent to you.

Before you leave home to catch a bus, check the LANta website, www.lantabus.com and see what alerts are posted and whether the system is operating on Snow Emergency Routes.   In very rare instances, LANta may decide for safety sake, to take the the buses off the roads and we try to get word out early or well in advance of such service terminations.   There is a link to the Snow Emergency Route Guide for reference also.
If you do not have internet access or are unable to get on-line, call LANta's customer service hotline at 610-776-RIDE (7433). This phone line is open Monday – Friday from 7:00 a.m. – 5:00 p.m. and Saturday mornings from 9:00 a.m. to 12:00 noon. If the lines are very busy or we are not able to staff the telephones because of the weather, an automated attendant will inform you if LANta is running on a regular schedule or a snow emergency schedule.

Passengers can also listen for information on:
 
WFMZ-TV 69 News
WAEB-AM 790
WAEB-FM B104
WCTO-FM 96.1 Cat Country
WLEV-FM 100.7
WODE-FM 99.9 The Hawk
Related posts